Sunclass Airlines orders virtual reality-based procedure trainer VRflow for A320 from VRpilot Aps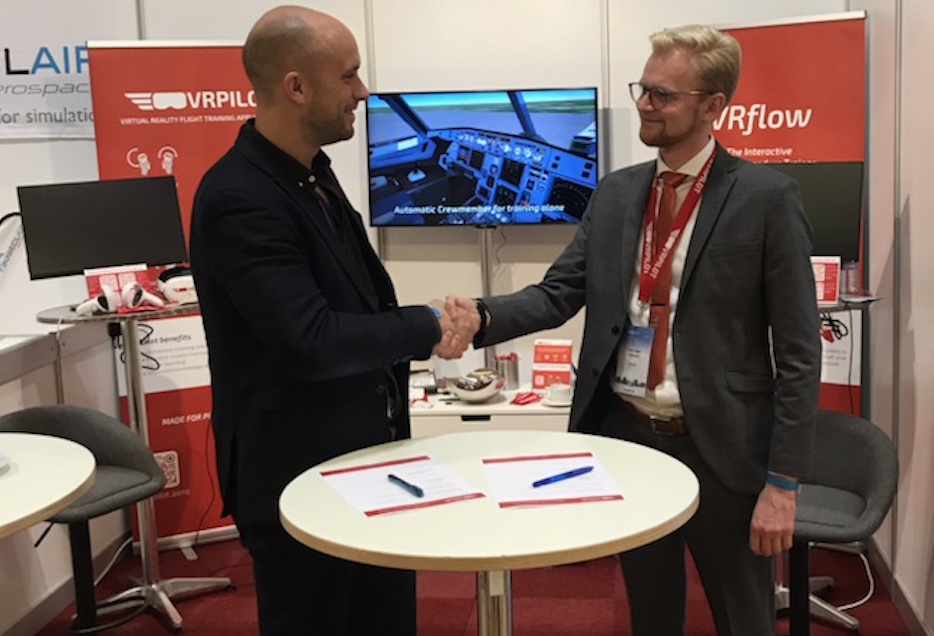 Sunclass Airlines orders virtual reality-based procedure trainer VRflow for A320 from VRpilot ApS
Tuesday the 3rd of November, 2021, At the second day of the European Airline Training Symposium 2021 in Berlin, VRpilot signed a contract with Sunclass Airlines for the delivery of virtual reality (VR) based standard operational and emergency procedure trainer, VRflow is to enable Sunclass to qualify the pilots for the high safety standard. VR will prepare the pilots for their simulator training, in the return t the line operation.
As level of flight activities are steadily increasing, Sunclass Airlines is ramping up their operations and starting to rehire pilots. The virtual reality training will be used for refreshing procedures and updates as well as brush-up on multi crew operations. SunClass will tap into the experience and improvements that VRpilot has gained through working with other pilot training organizations such as Center Air pilot Academy and the Royal Danish Airforce.
According to Nicolai Bondo, Head of Training and responsible for pilot training at Sunclass : "Sunclass has been the first movers on VR training for the last 5 years, using VR for cabin safety training. Now is the time to move on and supplement our Pilot simulator training with VR, using a competency based approach. We have a plan, to document the effectiveness of the VR training and the preparedness of the pilots before entering the simulator. The VR training will assist us to achieve the high safety standard
Thor Paulli Andersen, founding partner and CTO for VRpilot expressed that: "VRpilot is grateful that Sunclass has chosen VRpilot to deliver the virtual reality-based procedure trainer and are looking forward to work with Sunclass's training organization to meet their specific training needs"
VRpilot ApS – solutions created by pilots for pilots: VRpilot is a Danish company that develops and market flight training devices for professional users. Designed for maximum immersion, our simulators are efficient tools for flight training, emergency procedure training, cockpit familiarization, and countless other uses for Approved training organizations and aircraft operators.
Sunclass Airlines A/S or former Thomas Cook Airlines: is a Danish Charter Airline with roots back to 1961. We operate charter services from Norway, Sweden, Denmark and Finland with a number of A321 and A330. We are part of the Nordic Leisure Travel Group, Scandinavias largest tour operator.
Media contact details:
VRpilot ApS
Dan Ulrich   
Mobile: +45 4016 6205
E-mail: dau@vrpilot.aero

SunClass Airlines
Nicolai Bondo

Mobile: +45 4099 9456
E-mail: nbr@sunclass.dk